Superdrill Taper button bit as small hole bit is different with thread button bit as long hole bit to use taper rod to be used for air leg or hand held jack hammer driller in quarrying,and mining.
(1)Connect shank Size:22mm*108mm, 25mm*108mm
(2)Bit Diameter:Range from 20 to 45mm
(3)Standard Taper:6 degree, 7 degree, 11 degree, 12 degree.
(4)Material︰Alloy Steel Bar 45CrNiMoV, Tungsten Carbide Tips YK05 or T6.
Remarks:Other specifications are available according to customers' requirements
Superdrill could supply various cutting structures design configurations, include chisel bits, button bits and cross bits, for an extensive and diverse selection.
Taper Bit could be used for air leg rock drill and all hand-held jack hammer drilling needs.(Such as Y24, Y26, YT28 ), it is widely applied in quarrying, mining, tunnel work and construction.Superdrillprovides quality tools that withstand the toughest rock drillingdemands.
1.With carbide buttons hot pressed on bits bodies,tapered button bitshave a very good drilling performance and long life time. Different diameters and taper degrees are available to suit different applications in mining, quarrying etc. We can supply long skirt and short skirttapered button bits.
2.Comparing with taperedchisel bitsand Tapered cross bits, button bits has higher technology, much longer primary drilling time and higher drilling efficiency, so that the button bit is popular among the users.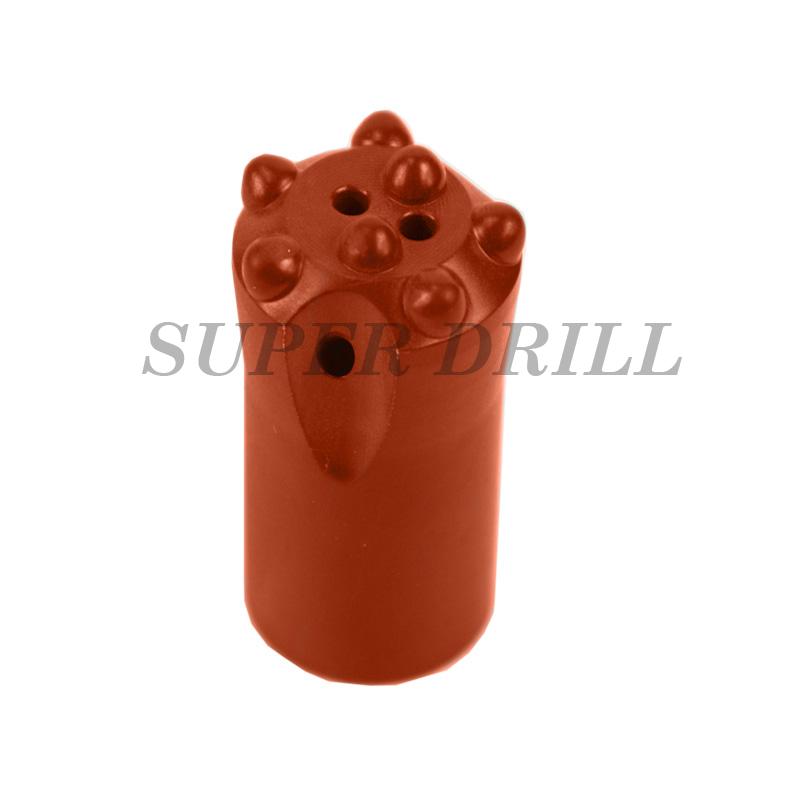 Order Guide:
Bit Diameter + Taper Degree + Skirt Length + Insert Shape
Advantage
●Increased penetration rate
● Longer service life
● Lower drilling costs
● Made from steel and tungsten carbide as same grade as internationally well-known brand
● Extensive selection of button and cross-type bits
For more details please watch PDF online:Tapered button bitCatalogue